23 Nov

Swept Over a Waterfall: The Story of Hailey Cheng
In an Instant
life forever changed for 12-year-old Hailey Cheng and her family
In July of 2018
Hailey was hiking at Troll Falls in Kananaskis Country with her brother and extended family. Hailey slipped on the wet rocks and in a few terrifying seconds, went over the edge of the falls, smashing against the rocks, before landing in the pool of water below.
Hailey was rescued by Alpine Helicopter Rescue, who transferred her to a waiting Stars Air Ambulance. She was flown immediately to the Alberta Children's Hospital in Calgary.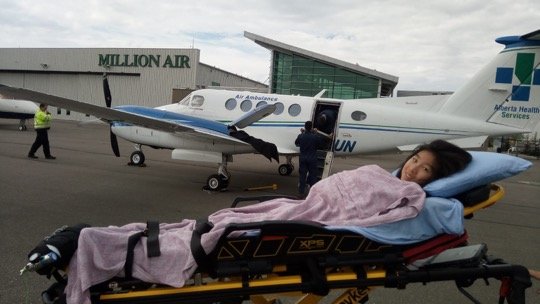 Hailey's injuries were catastrophic: a fractured skull, one collapsed lung, the other lung partially collapsed, her back was broken (T-11 – T12), and worst of all, her spinal cord had been severed. Hailey will never regain the use of her legs or have any feeling from the waist down.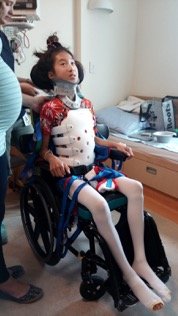 Hailey and her family live in a very typical two-storey home in Sherwood Park. At this time, Hailey's wheelchair prevents her from being able to spend time in her own bedroom upstairs, or even shower or bathe at home. She is currently limited to living and sleeping in the family room on the main floor of the open concept home. The next big item on the wish list is a vehicle outfitted for a wheelchair.
Hailey will never regain the use of her legs or have any feeling from the waist down.
The Cheng family is currently faced with extensive renovations to their home to make it more accessible for Hailey. The renovations, along with everything else needed to support Hailey's care for the short and long-term, create an abundance of unexpected costs for the family.
Enter the Community
Lynn Lola, neighbour and long-time friend of the Cheng family, started a Go Fund Me page to support these increasing costs for the family to support Hailey's immediate needs. The cost for things like new wheelchairs, chair lifts, wheelchair lifts, and much-needed renovations kept increasing. Lynn hoped the good people of Sherwood Park would pitch in to help. And they did! More than $16,000 has been donated to the Cheng family to help Hailey so far. But much more is needed to support.
Enter Alair Homes
The Alair Homes Edmonton team was looking for a local family to help out over the holiday season. There are many, many people who need support, but when we came across the Go Fund Me page for Hailey, we knew we found the right family.
Our team was so moved by the Go Fund Me page Lynn started for Hailey, and we knew immediately that we could help this wonderful family. As we started the process of introducing our team to the Chengs, we learned that Hailey goes to school with one of our #AlairJuniors – Parker, son of partner, Jason Brown.
We went to meet the Cheng family and look at their home to see what changes were needed to increase accessibility for Hailey and to help her become more independent as she adjusts to her new life living in a wheelchair.
The Cheng family live in a very typical two-story home with an open concept kitchen/dining/living room area. From the living room, there is a set of stairs taking you to the three bedrooms upstairs, a bonus area and a shared bathroom.
It was almost identical to another home we renovated in the past, for our friend Jax. This very common layout is great for a family until a family member with reduced mobility needs to get around.
Alair Cares
We are now working with the Cheng family to complete renovations to the home in order to make it more accessible to Hailey. We are prioritizing the stairs, second floor, Hailey's bedroom and the master ensuite to give Hailey more freedom to access more of the home.
In January, we will be completing the renovation and we hope you will follow along.
We also encourage people to consider helping Hailey – there are still many things Hailey will need in order to give her some independence and enable the family to transport Hailey; both at home and within the community.
If you'd like to help Hailey
You can donate to the Go Fund Me page here. View the CTV interview of Hailey's story with Alair Homes